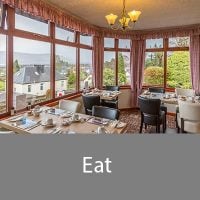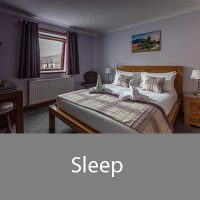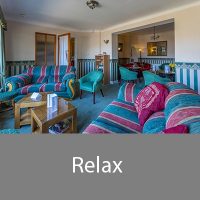 Reviews of Guisachan Guesthouse
Some of the reviews we've received for Guisachan Guesthouse
Do you want to know what our guests think of Guisachan Guesthouse?  Below are some of our reviews of Guisachan House from guests that have stayed with us over the years.  You can review Guisachan Guesthouse on TripAdvisor, Google and Facebook.
We don't push our guests to into reviewing us.  These reviews are genuine reviews of Guisachan Guest House.  It is really important to us to know what our guests think of the service we offer and it guides the improvements we are continually striving to make, in order to give our guests a comfortable and pleasant stay with us at Guisachan House.
Our aim is to make our 3* bed and breakfast accommodation in the centre of Fort William a welcoming and comfortable place to spend time.  We're privately owned and run so the people you see are the people who have a vested interest in making your stay pleasant.  It's our home we are welcoming you to!
You can make a booking with us by using the calendar above, or you can head over to our contact page to send us a message, or alternatively if you want to find out more about the guesthouse you can go to our About page, and if you want to find out more about what we offer our guests you can find out on our Services page.
A bit late to the party posting this. I stayed there in September 2019 while I was doing the Great Glen Way. I had already been travelling through Europe for almost over a month so had quite a heavy load. I had arrived early in the morning, way before check in, but they were happy to store my luggage til check in and even let me sit in the lounge area in the afternoon if I needed to. When I arrived back my luggage was already in my room. The rooms are not huge, however they are perfect for staying a couple of nights and you're mainly there for a rest. Breakfast is delicious and absolutely filled me up for my first day of hiking. If I ever get to do the West Highland Way I'd want to be arriving there at the end for sure!
karen bull
14:37 11 Oct 20
Stayed last night at the end of the West Highland Way.Great stay really nice welcome.Room great and food as well.They also have a small bar and we were able to have a drink at the end of the walk. Outside with new restrictions but under a great canopy with patio heater.Lovely way to end the walk with fab views as well. Thank you very much. Dry boots in the morning a real bonus.
Bruce Lawson
10:57 29 Sep 20
Absolutely fantastic guest house very welcoming couple, nice small room comfy bed great breakfast and evening meal would highly recommend.
Amrish Shah
13:27 27 Sep 20
Very clean, comfortable beds, great breakfast, friendly owner, nice views.
Katherine Llewellyn
10:59 21 Sep 20
Stayed here for a couple of nights after a hike. Lovely guest house with amazing views of the Loch. The staff and owners were so friendly and helpful and made me feel very comfortable and welcome. The included breakfast is amazing, many options and all very tasty! The place is very homely and clean. Location is perfect, close to the train station, high street and starting points for hikes.
Hermine Rodway
18:44 16 Sep 20
Sind durch Zufall hier gelandet weil unser vorgebuchtes hotel geschlossen war.Wir waren sehr begeistert, dieses Gäste Haus übertrumpft die meisten hotels die wir auf unserer Rundreise besuchten.Sehr sauber, freundlich, modern. Herzliche Betreuung von den Inhabern.Leckeres Frühstück mit tollem Blick.Jederzeit gerne wieder.
A great end to our WHW walk.
Great facilities, kind, funny & flexible hosts, lovely outlook from an elevated position. Best of all, amazing home-cooked food plus a well-stocked bar.
5 stars/highly recommended.
Thank you Carmen & Phill.
Iain Webber
17:29 12 Sep 20
Joanna Malton
16:24 11 Sep 20
This b&b is only a short walk from town. It offers great views a great breakfast and the hosts are very welcoming and friendly.
Kshipra Kulkarni
18:42 08 Sep 20
We stayed at Guisachan for 3 nights. Our room, which was really lovely and spacious, overlooked Loch Linnhe and the mountains. The guest house is very well located, just a few minutes walk from the train station. The breakfast even though served at the table, was a huge, delicious spread, including Scottish specialties like haggis and tattie scones. Carmen, Phill and their entire staff are very hospitable and gave us some great recommendations for walks/sightseeing around Fort William. The toiletries provided were all organic, which was a pleasant surprise.Our only very minor issue was that we could hear the couple talking in the adjacent room, which made it quite difficult to sleep on the first night. The talking resumed very early next morning too. However, we were too tired from our hikes the next 3 days to hear anything. Some soundproofing would really help.We loved the sitout area/lounge and the dining area. The views are amazing! We would highly recommend Phill and Carmen's wonderful retreat in Fort William!
Daniela Izquierdo
21:56 05 Sep 20
Kirstin Hutton
16:25 04 Sep 20
Great location very central to town, walking distance from most key places. The accommodation was very well presented and very clean and tidy. The owners have put a lot of effort into making it the homely experience it should be even with all the new COVID-19 rules. We felt really comfortable and very well looked after during our two night stay.
Carolyn Hudson
19:33 03 Sep 20
Just spent 4 days at Guisachan and thoroughly enjoyed the stay. Very comfortable with a nice homely feel to it. All the staff and the management were happy to chat and advise about what the area has to offer. Definitely stop there again!
Kiran Oddiraju
07:20 01 Sep 20
Nice accommodation and great hosts. They are in a prime location in Fort William, great views from the guest house.
Smita Gray
21:38 31 Aug 20
We really enjoyed our stay here it's wrong by a family we felt really well looked after and the rooms were great
The guesthouse is very clean and room is spacious with stunning view. We get to open the curtains all night to enjoy the lake and mountain view outside. Breakfast is also excellent. When we went to climb ben nevis we notified them we're heading out early next morning, and they actually made an effort to pack food for us. We certainly enjoyed our stay. Very comfortable and accommodating!
Michelle Chau
15:34 20 Aug 20
We stayed at Guisachan for 3 nights recently. Carmen and Phil were very welcoming and not only wanted our stay with them to be enjoyable, they also wanted our experience in Fort William to be too! They suggested places to go and gave us tips. Genuinely lovely people. They were very attentive to our needs especially for our toddler's dietary requirements at breakfast which was really really appreciated! The triple room was spacious and clean. High pressure shower in the room was excellent and just what was needed after long hikes. Free parking on site. The B&B is in on a wee hill and gives a lovely panoramic of the mountains.
We really enjoyed the stay here. Due to a car incident (flat tyre) we had to look spontaneously for an accommodation. Even that was no problem for them.They have a bar with various whiskeys and beers. They also provide board games for all guests to use. Very niceLooking forward for the next stay.
Enjoyable, great breakfast.
Martin Cronshaw
08:23 12 Aug 20
Very friendly atmosphere, very clean rooms, very clean communal areas. Well worth the price. Would highly recommend a stay.
Deepak Joel
17:33 04 Aug 20
Location, Food and People all were so good and worth your money. They welcomed us to use the lounge facilities as we reached early in Fort Williams, room was sanitized and arranged neatly when we came back from sightseeing for check-in. Next day morning breakfast was tasty and enough for us. Thanks Phil !!
Oliver Coles
11:26 02 Aug 20
Lovely establishment. Service great. Bar great. Room compact. View lovely. Bed comfortable. Parking available. Very short walk to train station and high street where there is plenty to see, buy, or eat at various pubs and restaurants
Europejskie Centrum Młodzieży
16:28 29 Jul 20